Privacy & GDPR
When the GDPR becomes an integral part of the CRM. Adequate to the legislation with our complete suite, also from the App.
GDPR Suite
We have developed the GDPR suite for vtenext, an official tool for the proactive management of the procedures envisaged by the GDPR, in line with the provisions of the European Data Protection Authority.
The suite for vtenext is based on the two master modules
1) Register for processing
2) Collaborator Management
The Registry for processing is an important aid for the mapping of all types of personal data relating to the natural persons managed by each company (both as Data Controller and as Managers). The completion of the mapping allows the company to assess the adequacy of its safety measures according to the risk related to the treatment, in line with the requirements of the new GDPR.
The Management of the Collaborator allows instead to inform all its employees and / or collaborators, through the comfortable mails provided with Link to track the Taking of documents (privacy policy, appointment to treatment, confidentiality agreement, etc ...) in full agreement with the rules established by the GDPR Directive.
Treatment Register
The register allows, for each contract and / or type of contract, to define the type of appointment in place (Holder, Manager, etc ...), the classification of the data processed in the contract, distinguishing the simple identification data, such as name, surname, etc. from data to special treatment (political belief, religious belief, etc ...).
The compilation of all the necessary data is however supported by a convenient WIZARD that accompanies the user in completing the register.
Once the personal data fields are fed, through the Wizard it is possible to note the form of data retention, indicating whether the storage medium is physical (for example, paper) and / or electronic.
It is also possible to set the expiration date related to the consent on the processing and, through the processes and the vtenext BPM engine, send notices and alerts or automatic emails request renewal consent to the data holder.
This simple process eliminates any possibility of error and protects against breaches of the directive and possible sanctions.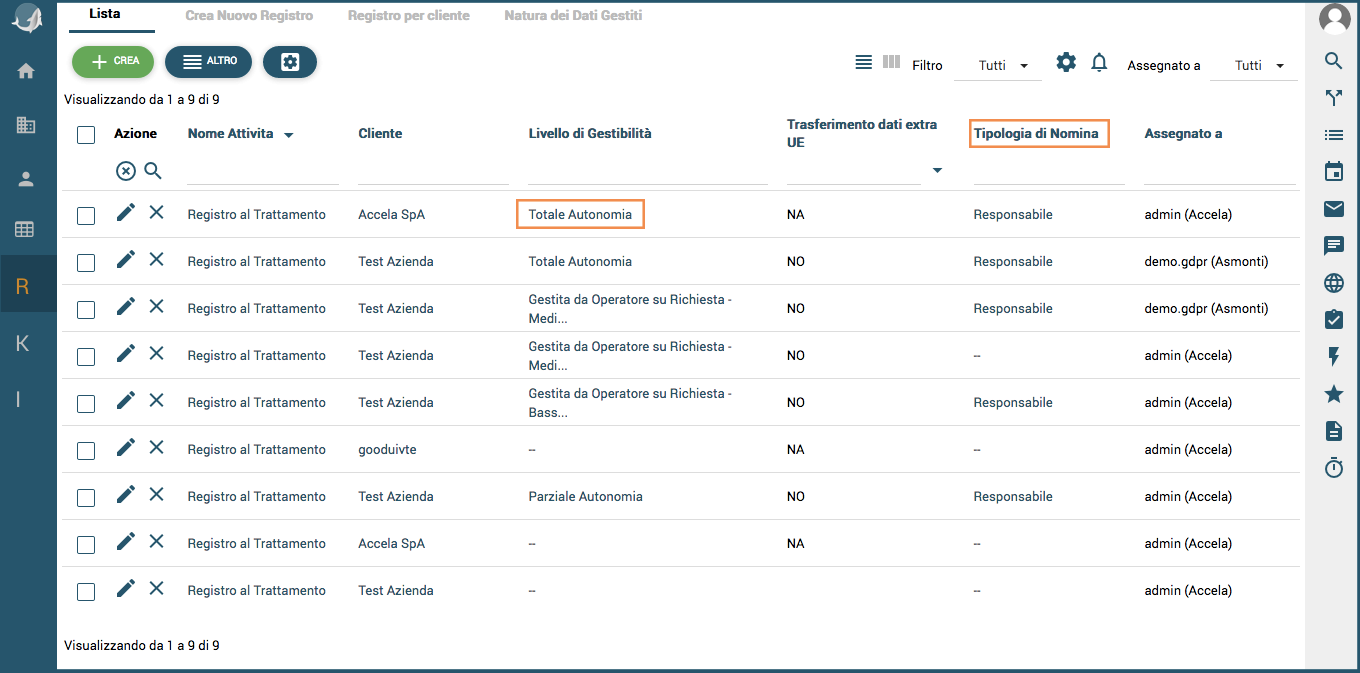 Collaborator Management
The Collaborator Management module is aimed at processing the data of its employees and / or collaborators and turns to be very useful, especially for companies with a good number of employees.
Once the personal data of the Collaborators are entered in vtenext, the form allows the sending of documents to all staff (eg privacy policy, internal regulations, appointment to treatment, confidentiality agreement, etc ...) and traces the vision through a unique electronic key associated with the employee that is deleted at the first click. The CRM will thus be able to record and historicize the confirmation of reading the document given directly by the user.
The module also allows monitoring, thanks to the vtenext BPM processes, the deadlines related to training activities planned for the personnel, allowing the company a rapid and effective management of renewals thus avoiding, for mandatory training, incurring any sanctions foreseen from law.